As promised during my talk at ARE2010, I'm launching a new project called the Ubiquitous Media Studio, a.k.a. @ubistudio. The idea is to gather an open network of technologists, artists, experience designers, social scientists and other interested folks, to explore the question "If the world is our platform, then what is our creative medium?" I'm provisionally calling this notion "ubiquitous media", building on initial research I did in this area several years back. The idea is also very much inspired and influenced by my friends at the most excellent Pervasive Media Studio in Bristol England, who you should know as well.


So what is ubiquitous media? I don't know exactly, thus the exploration. But it seems to me that its outlines can be sensed in the choppy confluence of ubicomp, social networks, augmented reality, physical computing, personal sensing, transmedia and urban systems. It's like that ancient parable of the blind monks trying to describe an elephant; the parts all feel very weird and different, and we're trying to catch a glimpse of the future in its entirety. When you look through an AR magic lens, ubiquitous media is in there. When your kid went crazy over the Pokemon and Yu-Gi-Oh story-game universes, it was in there too. When you snap your Nike+ sensor into your running shoe, you're soaking in it. When you go on a soundwalk or play a mediascape, there's more than a bit of ubiquitous media in the experience.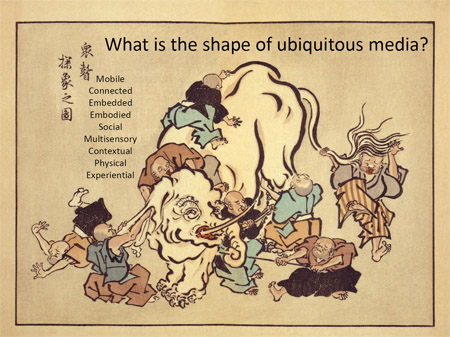 Anyway, we are going to investigate this, with the goals of learning new creative tools and applying them in creative projects. And "we" includes you. If you're in the Bay Area and you think you might be interested, just jump right in! We're having a little get-together in Palo Alto:
@ubistudio: Ubiquitous Media Studio #1
Thursday July 22, 2010 5:30-8:30PM
Venue: The Institute for the Future
Details & RSVP: http://meetup.com/ubistudio
I hope you'll join us. You can also stay connected through @ubistudio on Twitter, and a soon-to-be-more-than-a-placeholder website at ubistudio.org.
Tags: augmented reality, transmedia, ubicomp, ubiquitous media