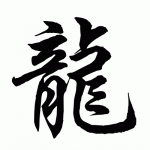 Next week marks the beginning of the New Year 4710, a Yang Water Dragon year in Chinese astrology. According to traditional practitioners, this will be a year for innovation and a time for new ideas to be born. Yang Water is like a flowing river and things will move, ideas flow, creativity abound, economies boom, and love blossom.
I'm happy to report that as a card-carrying Rat in good standing, my outlook also appears positive:
The Rat and Dragon have good affiliation with each other; you can expect things to be favourable and smooth. People born in the year of the Rat are energetic beings and they shall enjoy the dynamic pace of 2012. For those who are hardworking and opportunistic, new career opportunities and jobs await. Relationships progress well this year, however, they need to be more sensitive to their partners and stay honest with themselves at the same time.
In other words, as long as I'm hardworking and opportunistic, sensitive and honest then good things should come. Good advice under any stars, right?