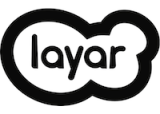 I have a bit of news: I'm joining Layar, the Dutch mobile AR company, as an Augmented Reality Strategist. \0/ In this new role I'll be developing the creative ecosystem for the Layar platform, working with artists, developers, agencies, brands and media geeks to push the boundaries of AR experience design. As the first US-based team member, I'll also be helping establish Layar's Bay Area presence and growing the North American community of mobile AR enthusiasts. There's more at the Layar blog.
Signing on with the Layar team feels like a natural evolution to me. I've worked at the intersection of digital media and physical reality for more than a decade, and mobile AR is one of the most important world-changing developments in that field. I believe that today's mobile AR is the leading edge of an emerging new medium of expression and communication, a vision the Layar team shares. The chance to help shape something this important, working with a team of this caliber…well let's just say it's going to be fun ;-)
As for Lightning Laboratories, I'll still be blogging here and sending out the occasional Connected World newsletter. However, the consulting part of the business will be offline for the foreseeable future. My social media practice will move over to TrendJammer, the new social consulting & analytics venture that my friend Risto Haukioja has launched, and for which I'm an advisor. If you're interested in that sort of thing, there's lots of fun going on at trendjammer.com and @trendjamr on Twitter.
If you want to get in touch, the usual channels still apply: @genebecker, @ubistudio, gene at lightninglaboratories dot com, etc. For super-double-secret Layar business, I'm now gene at layar dot com. Now let's get out there, people — we've got a new medium to build!